Jason Baragar Memorial Basketball Tournament
Click here to read how the "Legacy of Jason Baragar makes lasting impact" in the Lansing State Journal! or click here for PDF version
(Click here and subscribe to our YouTube channel updated daily with archived Holt Rams Varsity Men's Basketball footage!)
Watch Jason Play Basketball!
(Click for Tournament Game Rules)
(Click here for the PDF of the bracket and schedule) or click the image below to view/print full size
Youth Bracket
(Click here for old VHS video tapes of Holt varsity hoops games on YouTube)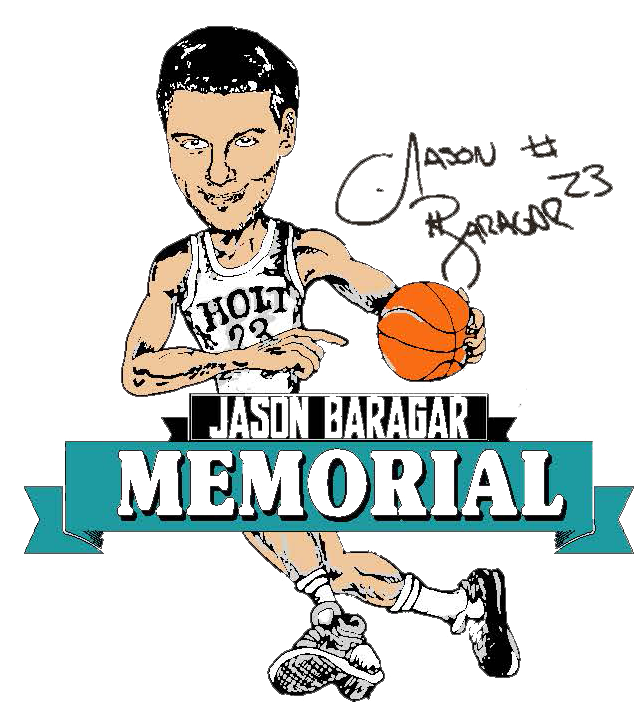 Sponsored by CATA
Free POWERADE Donated by:
Lunch and Dinner Special
Coaches Pub and Grill (Owner Dennis Shumway) has a pizza and pitcher special; details to follow!
APRIL 21, 2018 – ALL GAMES SATURDAY
Divisions: This year, all teams play in the same tournament
Games: 5-on-5 full-court refereed with running clock (Click for Rules)
REGISTRATION IS NOW CLOSED (Donations still welcome!)
We cannot accept random text messages to "hold spots" for teams!
---
Registration Fees
ADULTS: $250 / Team (suggested donation)
YOUTH: $10 / Player (suggested donation)
* You are welcome do submit a "custom amount" (minimum $10). You can register a team or player.
DONORS
Please use the form below and leave any unnecessary fields blank
---
Raising funds in memory of Jason Baragar to help Improve our community!
Registration fees have changed since last year (see below)
If you are registering a team or player today but paying later or receiving a registration fee waiver, that is okay! Simply click "Offline Donation" on the form below. This allows you to complete the form in its entirety without submitting any credit card information or payment, which is fine! If you are under 18 years old, please have a parent or guardian help you complete this form, thanks!
WE RAISED ALMOST $7,000. THANK YOU!
---
T-Shirts
Limited quantities; Provided by RETRO DUCK
Special Guests
Scholarship Winners! – Holt Community Foundation will be honoring Zach Van Liew with the fourth year of a $4,000 scholarship in memory of Jason Baragar. Zach attends Sienna Heights University.
Holt Community Foundation will also honor Aaron Centofanti with the fourth year of his $4,000 scholarship in memory of Anthony Harris. Aaron attends Michigan State University. The scholarship will be conveyed by Malinda who is Anthony's godmother and Dalia's niece.
Contests
50/50 Raffle
Lightning
Basketball Musical Chairs
3-Point Contest
Planning Committee Members:
Holt Alumni and Supporters

Jeremy Baragar, Holt Rams Class of 1990
John Girdwood, Holt Rams Class of 1997
Jake Alvarado
Ryan Bort, Holt Rams Class of 2006
Volunteers
Shane Blood Photography (10a – 3p)
Ryan Anderson, AM Scorer's Table
Gary Baragar, Scorer's Table
Jake Alvarado, Referee
Ben Bakken, 50/50 Raffle
Jim and Deb Putman (8a Concessions)
Jennifer Baragar, (11a Concessions)
Zach VanLiew (8a Referee)
Referees
Tim Tilma, Delhi Parks and Rec Supervisor, sent a list of referees
Holly Scott has a co-worker whose husband is a referee and she is checking with him to see if he is available
Lunch Special
Jason Baragar Charity Hoops Tournament
Thank you for your support.
Questions? Contact:
Dr. John Girdwood
Holt Community Foundation
(774) 473-9663 phone or text
Info@HoltCommunity.org
Thank you to all who participate in the Jason Baragar Memorial Hoops Tournament!
Sponsors
Thank you to our major sponsors!
CATA ($1,000)
Bonnie Binioris Family ($500)
Aaron Fuller, Superior Data Strategies ($500)
Matthew Smith and Associates ($500)
Jeremy Baragar Family ($400)
Steve and Jane Green ($300)
Kim and Kortnie Hewitt Family ($110)
Mark and Susan Borden ($100)
Joni Steinhaus ($100)
Kathleen Seat ($100)
Karen Powell ($100)
Angie Rosenbaum ($100)
Sara Boyd ($100)
Ryan, Kailyn, and Reed Anderson ($100)
Event Bonus!
Special WINTER '18 Announcement!
WINTER 2018 – Holt High School is hosting the 1st "Crosstown Bash" alumni basketball game featuring Okemos High School vs. Holt High School alumni teams! We're currently working on the rosters, branding, and promotion for this amazing inaugural event. Here's what we know:
If you'd like to register as a player for the game and you are an alum of either school, please contact Anthony Ianni or John Girdwood by emailing john@holtcommunity.org or call/text (774) 473-9663 and mention "ALUMNI Basketball Game"
If you'd like to donate and/or sponsor the event, you can contact Anthony Ianni or John Girdwood by emailing john@holtcommunity.org or call/text (774) 473-9663 and mention "ALUMNI Basketball Game"
Okemos Alumni
ABOUT OKEMOS MEN'S BASKETBALL
Since 2000

7 league titles
7 district championships
2 regional titles
2005-06 State Runner Up

All Time

34 league titles
21 district championships
7 regional titles
2 State Titles (1980-81 and 1981-82)
---
About Jason
Jason grew up in Holt and was a multi-sport athlete. As a young adult he lived in the Lansing area and had many ideas on helping the people of his community. Jason was a very special individual who touched many lives in a variety of different ways. He was such a giving person and had an empathetic heart that shined brightly through his actions. It's difficult to honor his memory in a single way so we've created this basketball tournament in his name to give back to local charities we know he would be proud to be a part of.
Here is who we support: April is Sexual Assault Awareness Month. We recognize this and support the survivors by incorporating the color teal into our logo and encouraging others to wear teal at the event and throughout April.
Proceeds: Through his profession, Jason was regularly in contact with homeless and other marginalized individuals. We will donate proceeds from this event and the Holt Alumni Basketball team game to "Jason's Room."
---
Jason's Room
We are in the early stages of developing a partnership with Holt Public Schools to sponsor the pop-up pantry and clothes closet for ALL students! We support equity in many different ways and one of those is making sure students at Holt Public Schools have access to school supplies they need and the clothes they want. The pop-up pantry also ensures students have nutritious food even outside of school hours. We hope to call this "Jason's Room."
Update: Chad Fulk and Erin Umpstead teach the Capstone class that puts together and runs the Holt Pop Up Pantry. They are very excited about the support they will be receiving from the Holt Community Foundation and the Basketball Tournament. Holly Scott, Pupil Accounting & Data Coordinator, is planning on attending Saturday 4/21/18 around 1:30-2:00 and may have a couple of the students that are in the current Capstone class join her.
They also thought naming the Pop Up Pantry in Jason's name was a great idea. There is a School Board process that needs to be followed when naming rooms, buildings, etc. after someone. They should have the policy/process completed in July, then we can pursue this with the district.
More Information about Programs
2018 Let's Meet and Eat at Hope!
Info directly from HPS press release link here
"The Holt Public School District announces the sponsorship of the Summer Food Service Program for Children. FREE lunch will be available to children who are 18 years of age or younger. Also, persons up to age 26 enrolled in an educational program for the mentally or physically disabled recognized by a state or local public educational agency may participate. Parents are welcome to join their children for lunch for $3.75 per person. Lunch will be provided at the site listed below:
HOPE MIDDLE SCHOOL CAFETERIA
2020 Park Lane

(Enter door #19 off the parking lot adjacent to Holt Rd.)

Monday-Friday, June 25-29, 2018 and July 9-27, 2018
While attending the Summer Food Service Program, all participants are expected to be safe, responsible, and respectful. Expectations for these behaviors are posted in the cafeteria and will be monitored. Children under the age of 11 must be accompanied by a parent/guardian.
All students should enter and exit through the building door off the parking lot on the corner of Holt Rd. and Park Lane.
Please contact the Holt Public Schools' Food Service Department at (517) 699-1111 if you have any questions about our summer food service program."