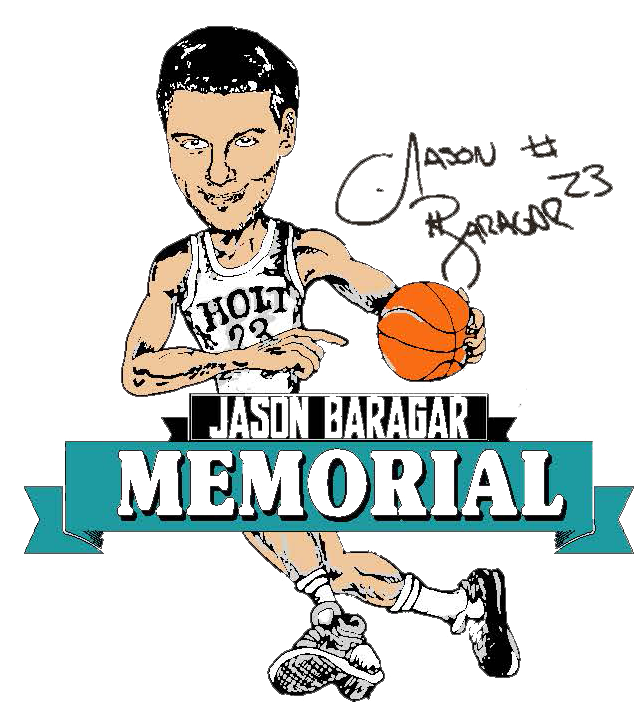 For official rules, see below. The majority of players on each team must be over 16 years old. This is an adult basketball tournament for charity.
Prizes
WINNERS will get trophies and t-shirts!
RUNNERS-UP receive t-shirts!
Charity Event
This year, in addition to supporting the Holt Pop-Up Pantry, we will be supporting the Holt Rams Varsity Baseball Team. Jason and Coach Keith Allen were classmates and teammates at Holt and shared a wonderful friendship for years. It is an honor to raise funds to help the baseball team this year in Jason's memory.
Music
Watch our favorite band, the Dead Lennies!
Promotion
Click here for our flier or view it as an image below!
Rules
Ejections
Refs – provided by Refs 'R Us – and event volunteers can eject any player or any fan at any time.
Starting the Game
Games will start promptly at the time indicated
If a team is not ready, other team receives +2 points for every delay up to 1 min (Ref discretion)
Point Structure
Games are played by 2s and 3s with free throws counting as 1 point.

Free throws occur on all shooting fouls
Free throws occur on all fouls during final 3 minutes of play

If winning team is fouled during this time, they cannot stall
Winning team must shoot free throws immediately (Ref discretion)
If winning team stalls on free throw (after warning), losing team gets +1 point
Clock
25 minutes
No stoppage
No halftime
Final Minute
To avoid "stalling" and delays by the winning team during the final minute, here are the rules:
Overtime: If the game is within 9 points (i.e. 3 possessions) during the final 1 minute of play, the Ref will institute a 90-second overtime period if the following happens…

Winning team is fouled
Winning team is dribbling to stall (with or without losing team fouling them)

Example: Team A is winning. Team B fouls them with 55 seconds left. Ref immediately blows whistle and indicates "overtime added!" Team A stalls on their free throws, clock continues to run, and the buzzer sounds. We add 90 seconds to the clock with CLOCK STOPS (in overtime).

Caveat 1: If both courts go to overtime, we run overtimes separately, so clock can stop.
Caveat 2: Refs will warn any team who stalls during regulation "Stall Warning" and then if team continues to stall, will add +1 (point) for every stall violation (after warning).
Scoreboards
We use manual "flip style" scoreboards but an electronic running clock for both courts
Game Play Guarantee
All teams are guaranteed to play 3 games in tournament play
This is tournament play, not double-elimination