Teacher Lisa Weise leads the 1,000 Trees Project in Holt with the goal to simply plant trees in the community. You can see a great example of the effort in the bus loop of the Holt High School North Campus.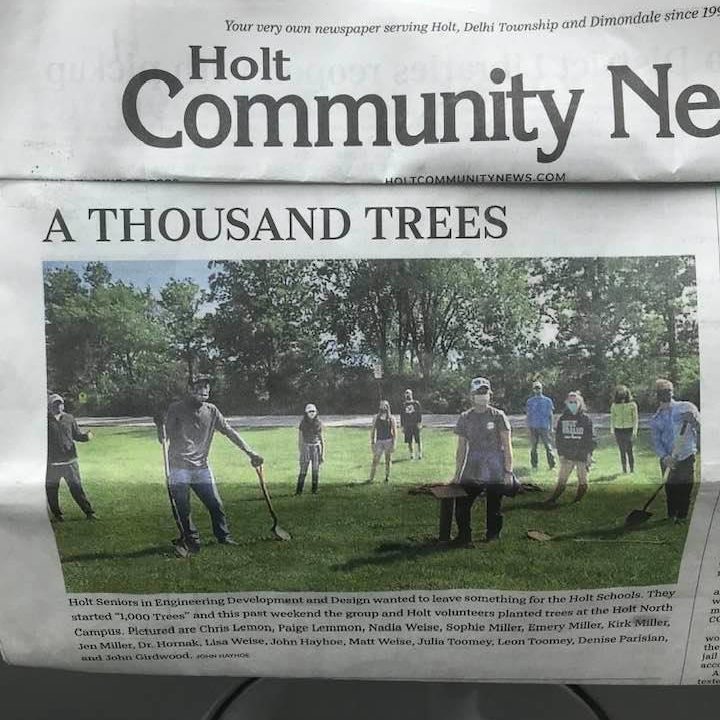 You can support the 1,000 Trees Project in many ways! We mostly need funds to buy trees. This donation form will specially mark your donated funds specifically for the 1,000 Trees Project. If you have any special instructions or would like to talk more about your donation, please email john@holtcommunity.org or call John @ (774) 473-9663
At this time, we are specifically conducting an effort to plant a tree to honor the legacy of Corban Ferris.
Thank you to the following people have donated to the Corban Ferris memorial as of 1143a on Oct 01, 2020
Tina and Stan Ferris
Leon and Linda Toomey
Maria Giggy
Lisa Regan
Jessica Lynn
Stephanie Clark
Ted & Karen Younts
Lisa Weise
John Girdwood
Jose Oviedo
Cheryl Bruzewski
Tom & Diane Selbig
Debra Worden
Michelle Ferris
Mandi Tobias
Rob at Little Frog Farm
Tracie Baise
Amy Miller Massage
Eaton Rapids Volleyball
Nancy and Jeff Rostoni
Michelle Wade
Holly Panich
Jana Kittilson
Amy Miller
Kendra & Reilly
Smelker Family
Ronda Carver
Kim Koch
Kelsi Crosby
Jessica Rothwell