Our current big push for the remainder of 2018 is focused on the H. O. L. T. Scholarship which stands for "Helping Others Learn Together" and is a scholarship given in the form of a "promise" scholarship.  Feel free to contact John Girdwood, Executive Director, for more information about the H. O. L. T. Scholarship and the many other philanthropic charitable volunteer efforts of the Holt Community Foundation.  Your donation is appreciated and will make an impact in our community!
2018 H. O. L. T. Scholarship
Thank you so much for choosing to donate to the Holt Community!
Did you know…?
You can designate the Holt Community Foundation as a contingent beneficiary on your life insurance!  Please talk to your insurance agent about this and use our EIN 81-5136499 (Tax ID) to set up a contingent beneficiary plan like the one below.  This is example is for TIAA and is how Executive Director John Girdwood set his up.  "Contingent Beneficiary" means the recipient of the life insurance policy if the primary beneficiary(s) are not available.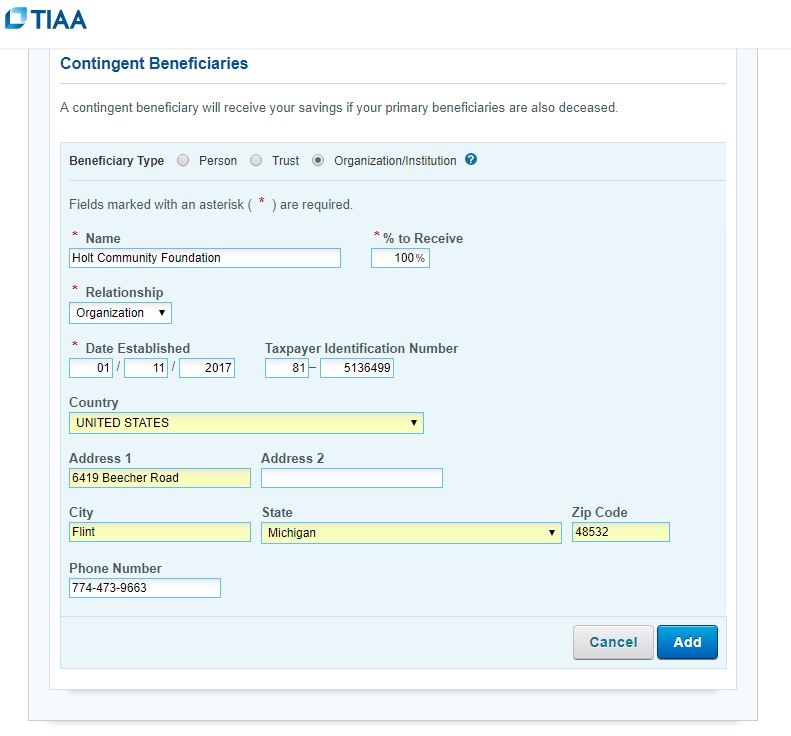 Thank you so much for choosing to support the Holt Community!
Great deals. Good deeds.
Use Giving Assistant to save money and support Holt Community Foundation
Holt Community Foundation gets up to 30% of this purchase when you sign up for Giving Assistant for free.