Support Your Community
Click here to donate securely through PayPal.
Click here to donate securely through GoFundMe.
Click here to donate to Jason Jr.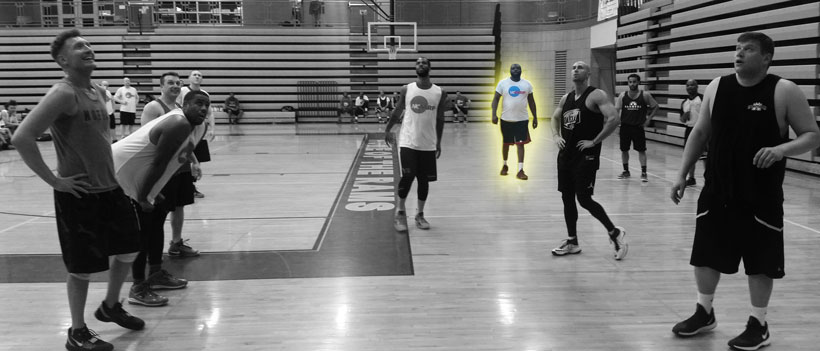 The Holt Community is special because the people are special. Holt Rams are some of the strongest, most dedicated, and generous people on earth. We are stronger together. The Holt Community Foundation is here to support you and work together to make the biggest impact possible. What will your legacy be? Keep reading to learn more about how you can support the Holt Community.
Prefer to mail a check? That works! Mail to:
Holt Community Foundation
6419 Beecher Rd, Flint MI 48532
When You Donate
If you are making a specific donation, like donating to have a tree planted in memory of a loved one, make sure to type that clearly into the space that says, "Tell Us About Your Donation or Specify the Cause" or send an email to john@holtcommunity.org to discuss the details of your donation. For example, you would need to talk with John first about the text that would go on your memorial sign and what type of tree and where we would plant it. After you do that, you can use this form to make the donation.
Other Ways to Give
Capital Area United Way
MSU Employees
You can donate to the Holt Community Foundation directly through MSU payroll deduction thanks to our partnership with the Capital Area United Way! All you have to do is keep your eye out for the MSU Shares forms that are sent to you. Or, click here to check it out now. Simply designated the Holt Community Foundation as your charity and we will receive your donation processed through the United Way!
Our MSU Shares Donors
George W. Bird (MSU Retiree)
John Girdwood (MSU Former Employee and Alumnus)
Donor-Advised Accounts
"(A) donor advised fund is a separately identified fund or account that is maintained and operated by a section 501(c)(3) organization, which is called a sponsoring organization. Each account is composed of contributions made by individual donors. Once the donor makes the contribution, the organization has legal control over it. However, the donor, or the donor's representative, retains advisory privileges with respect to the distribution of funds and the investment of assets in the account" (irs.gov).
How can I establish a scholarship fund in memory of a loved one?
If you would like to establish a scholarship fund in memory of a loved one, the Holt Community Foundation can support you. Our scholarship funds are set up as "donor-advised accounts." What does that mean? It means that the funds you raise are controlled by you. Of course, any distribution of funds must adhere to the Holt Community Foundation mission. Scholarship funds fall into this category and the Board of Directors can work with you to ensure scholar selection criteria are acceptable.
Where do I start?
First, contact a member of the Board of Directors. We'll talk with you about your loved one and the reasons why you want to establish a scholarship fund. We've been administering scholarships for over a decade and we can provide guidance as well as alternatives to scholarships. For example, sometimes the family decides to host a celebratory event and donate funds to the Holt Community Foundation to support programs. Please understand that scholarship funds are a longterm commitment and require at least $4,000 to start. We recommend the bare minimum of $1,000/year for 4 years when distributing scholarships. If you are ready to talk, we're ready for you. Feel free to call Executive Director and Holt High School '97 Alumnus John Girdwood (ph# 774-473-9663) to begin the discussion. Or, email john@holtcommunity.org
How are donations processed?
The Holt Community Foundation encourages online donations. We use a paid platform called GiveWP to process our online donations through PayPal. Since the money flows directly through PayPal, regardless of whether the donor has a PayPal account, it is extremely secure. GiveWP is simply the platform and plugin (within our WordPress website) that allows us to accept donations through our site using PayPal. We also have a PayPal Pro account and an SSL certificate so that our donations are safe and encrypted.
We record donations with GiveWP regardless of whether the donation is made online or received in person or by mail, e.g. cash or check donations. We can create a specific online donation form for your scholarship fund (or event) that "tags" donations to your fund. We can produce reports that show how many donations we have accounted for your donor-advised fund. We can provide you with a report at any time. We can also set up email alerts that are sent to you whenever someone makes a donation using your specific donor form.
We bank with MSU Federal Credit Union. When you establish a scholarship fund with us, we create a specific "sub-savings share" dedicated to your fund.
When a donation is made through our website, in person, or by mail it is deposited directly into our Small Business Checking account. At the end of each month or major event, we reconcile our sub-accounts with our GiveWP reports. In other words, donations don't go directly into the sub-account; we have to do that manually.
We are more than happy to provide you with bank statements and GiveWP reports at any time so that you can see (1) the amount of donations made to your scholarship fund and (2) the balance in your account. Those amounts will always match. We are dedicated to transparency, giving you control and access to your funds at all times. You are the priority. We simply provide the platform and support to help you achieve your goals.
When can I monitor the fund?
If you choose to establish a scholarship account with the Holt Community Foundation, we can provide you with direct access to view the account balance. We will work with you to complete this MSUFCU form and we will select "Access Level: Inquiries Only." At the current time, we have 4 trustees: John Girdwood, Paul Anderson, Ryan Bort, and Jaime Zerka. We are unable to allow you transactional access because we limit that function to trustees. To reiterate, you will have access to view your account balance directly through MSUFCU but you cannot make deposits or withdraw money. The trustees of Holt Community Foundation are the only authorized individuals who can deposit or withdraw funds.
Does 100% of the money go to my scholarship fund?
If the Holt Community Foundation receives cash or a check dedicated to a scholarship fund, then 100% of that money goes straight to that dedicated scholarship fund. We are also a charity that is 100% volunteer-run and 100% donation-supported so we appreciate unrestricted donations, too. An "unrestricted donation" is a donation that comes to the Holt Community Foundation without a specifically dedicated use. Those unrestricted donations help us with mailings, gym rentals, and buying t-shirts for our events. We generally receive unrestricted donations through our corporate and local business sponsors as well as individual community members and families. Note: If you donate online using a credit card, then a percentage (%) of your donation will go to PayPal. Currently, that's about 2.9% (link here). Even though we'd like to avoid those fees, we made the decision to utilize PayPal and allow the % charge because of the benefit we receive in accounting and reports from PayPal. You always have the option to donate cash or check and avoid those fees.
Thank you so much for choosing to support the Holt Community!
Did you know…?
You can designate the Holt Community Foundation as a contingent beneficiary on your life insurance! Please talk to your insurance agent about this and use our EIN 81-5136499 (Tax ID) to set up a contingent beneficiary plan like the one below. This is example is for TIAA and is how Executive Director John Girdwood set his up. "Contingent Beneficiary" means the recipient of the life insurance policy if the primary beneficiary(s) are not available.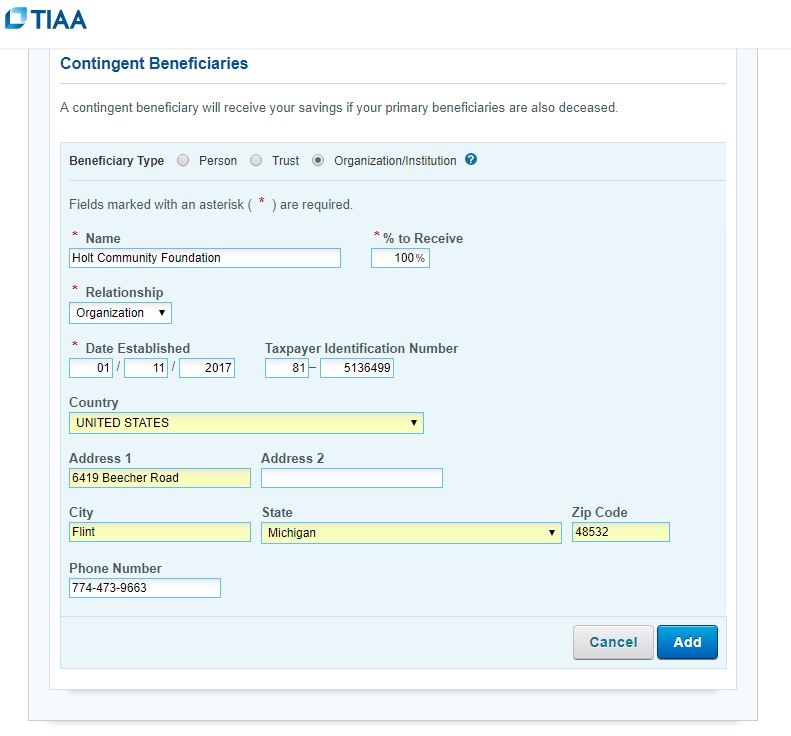 Golden Circle Members
George Cochran
Scott and Joye Cochran Family
Steve Reed Family in Memory of Craig Anderson
John Girdwood and Jaime Zerka
Stiles Landscape and Lansing Gardens
Kellie Dean (Dean Transportation)
Jerry Kulczycki
Thrivent
CATA